How To - Treat New Shoes

Polishing time: 10 minutes

Difficulty: Easy

Check the bottom of this page to see all the products we used in this guide!
'New' shoes can have been on the shelves of a store for months before their new owner comes by to pick them up. In this guide we will quickly guide you through the process on how to prepare your new smooth leather calfskin and suede shoes for their first wear. Chances are that the old shoe polish applied during production has dried out over time and does not offer the proper protection you would like and lost its natural luster.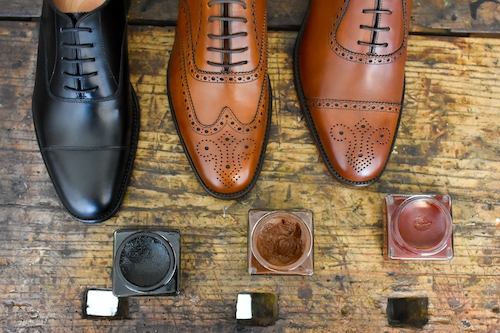 Smooth leather /Calfskin leather
1. Brush off the shoes using a horsehair brush to remove any dust that might have built up over time.
2. Nourish and gently clean the shoes using Saphir Médaille d'Or Renovateur. Apply the Renovateur using a cotton cloth and massage the Renovateur conditioner into the leather. You will see the top layer of old factory applied shoe polish come off the shoes.
3. Use Saphir Médaille d'Or Pommadier cream to enrich the colour of the leather. If you do not have a matching colour cream you can use 02 neutral cream instead. Pommadier cream will also give your shoes the basic level of protection and an overall nice shine.
4. Apply Saphir Médaille d'Or Pate de Luxe wax for extra shine and added protection against moisture. This step is option, although we personally recommend you always use a combination of Pommadier cream and Pate de Luxe wax for optimal protection and for a nice rich shine.


Suede / Nubuck
The process of preparing a new pair of suede/nubuck shoes is simple. We recommend the following:
1. Brush the shoes using a suede brush (preferably a crêpe brush to avoid scratching the suede) to remove loose suede and dust.
2. Same as with smooth leather, the suede can have dried out over time while the shoes were stocked at the shop. That is why it is important to nourish and impregnate the suede using a suede spray containing natural oil as its main ingredient such as Saphir Médaille d'Or Super Invulner spray. Avoid using synthetic protector sprays since those will dry out the leather over time. Spray the shoes up to three times on the first maintenance. Put the shoes aside for 5 minutes and brush the shoes after each application. You can bring down the applications to once every month after this initial treatment.